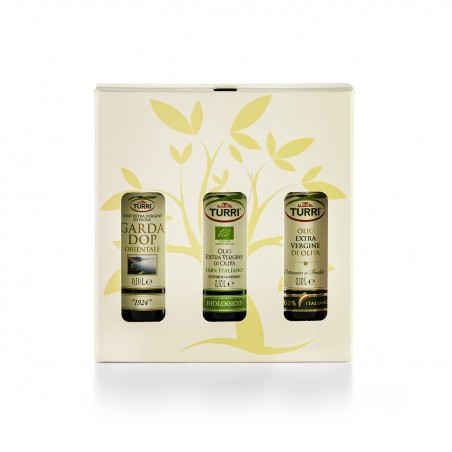  
Podium - tasting box (3x0.10L)
EAN CODE: 8001243030528
PACKAGE: gift box with 3x0.10L bottles
PACKAGE PRICE: 14.90 €
PRICE PER LITER: 49.66 €
BEST BEFORE: 16/02/2023
Shipping costs are based on number of products and the destination country.
Shipping costs will be final after entering the delivery address.
Sales conditions
Terms and legal notice
Podium - tasting box 3 extra virgin olive oils: Classic 100% italian, Organic 100% italian, PDO Garda Orientale 1924
Provenance: 100% italian and Lake Garda Classic extra virgin olive oil Turri 100% italian, rich and versatile in taste, is ideal for dressing salads, meat and for all kitchen uses; Organic extra virgin olive oil 100% italian, with its ripe and delicate flavour, is ideal for starters and raw vegetable; extra virgin olive oil Garda Orientale DOP, with its light fruity flavour, is ideal for dressing seafood and raw meat.
Recommended usage: The three small bottles, packed together in an elegant box, are a delicious gift idea. You can taste and find the right match with all dishes.