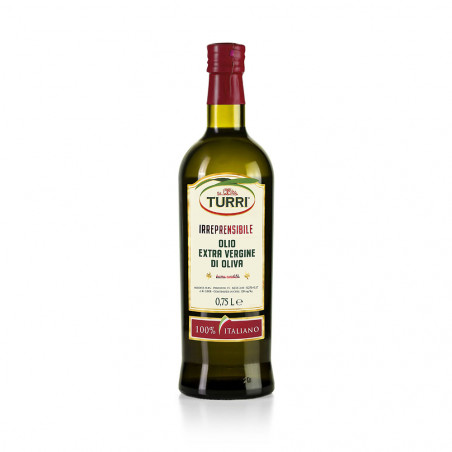  
IRREPRENSIBILE-LOW ACIDITY EXTRA VIRGIN OLIVE OIL 100% ITALIAN (6X 0,75L BOTTLES)
EAN CODE: 8001243951779
PACKAGE: parcel with 6 x 0.75L bottles
PACKAGE PRICE: € 47.40
PRICE PER LITRE: € 10.53
BEST BEFORE: see Description
Shipping costs are based on number of products and the destination country.
Shipping costs will be final after entering the delivery address.
Sales conditions
Terms and legal notice
Irreprensibile Turri - Low Acidity extra virgin olive oil

Provenance: 100% italian

Extra Virgin Olive Oils are not all the same. It is well know that their organoleptic features depend on the climate, type of soil and variety but other factors too, including oil acidity, contribute to their quality. A low degree of acidity indicates that the oil derives from healthy olives that are properly processed immediately after harvesting. The oil obtained is bright golden green in colour, and has a fresh, complex aroma. Its delightful bouquet is the result of a choice blend of olives. This initial sweetness is followed by a pleasantly bitter aftertaste, with spicy tones.

Recommended usage: The oil is beautiful, lingering flavour makes it ideal for vegetables, meat, grilled fish and soup; it is best consumed with hot dishes, where its aroma can fully develop.
Durability of the product: we try to always provide a product as fresher as possible. So we assure a durability, at the moment of purchasing, not less than 12 months.